¡BIENVENIDOS!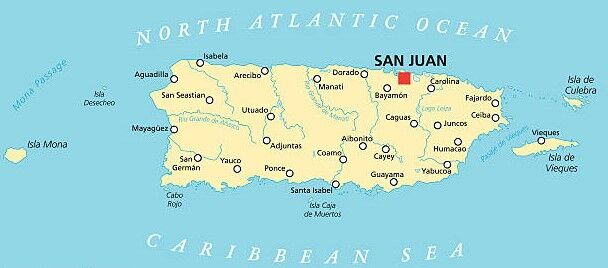 Welcome to Puerto Rico!
La Isla del Encanto is a beautiful Caribbean island rich in history, culture, exceptional food, pristine beaches, and majestic mountains, perfect for relaxation and adventure.
We highly recommend extending your stay for a few days before the wedding festivities in order to take advantage of all Puerto Rico has to offer!
The bride will arrive on Wednesday, so count on organized group activities Thursday including a daytime beach excursion and a fun evening out in historic Old San Juan!
Below are our family-favorite recommendations to make the most out of your time on our beloved island! Please feel free to reach out to any Picon or Olmedo family members for questions or more information.

Sample itinerary:
Wednesday
Arrive to Puerto Rico, settle into hotel, catch sunset on the beach then head to dinner at any of the recommended restaurants!
Thursday
Join us for a daytime beach excursion, then a fun evening out in Old San Juan!
Friday
Go sight-seeing in historic Old San Juan, enjoying unique Spanish architecture, glorious ocean views, and the impressive 15th century El Morro fort and San Cristobal castle --- OR --- Rent a car and head to El Yunque, the nearby lush tropical rainforest to hike and swim in waterfalls! Just be sure to head back in time to enjoy music, drinks, and dancing with us at the Friday night Welcome Party
Saturday
Wedding Festivities!
Sunday
Brunch, lounge by the beach or the pool before checkout!
Travel
Luis Muñoz Marín International Airport
Luis Muñoz Marín International Airport (SJU), Av. Aeropuerto, Carolina, 00979, Puerto Rico

This is the main airport in Puerto Rico, located 3 miles southeast of San Juan and 15 minutes from the Caribe Hilton hotel. Uber is not allowed at the airport for pickup but there are plenty of taxis. Flat rate to Condado or Old San Juan should be @$12-$15.
No passports are necessary for a U.S. citizen or national traveling to San Juan.
Prior to entering Puerto Rico, please review the Covid-19 travel requirements and fill out the travel declaration form:
https://travelsafe.pr.gov/#tra...
General Travel Information
Check the official Tourism website for updated coronavirus-related travel guidelines and for additional information: https://www.discoverpuertorico...
Getting around San Juan is easy with taxis and Uber. There is no need to rent a car unless you want to go explore the island on your own.
The "headquarters" hotel will be the Caribe Hilton, located between Old San Juan (less than 10 min.) and the Condado area (less than five min). Isla Verde beach is 10-15 min away. These areas have resort hotels, boutique hotels, guest houses, Airbnbs and VRBOs for all budgets and are conveniently close to everything.
Guest Accomodations
Caribe Hilton
Caribe Hilton, 1 Calle San Gerónimo, San Juan, 00901, Puerto Rico
787-721-0303
Check-in:
August 15th, 2021 |
Check-out:
August 24th, 2021
Use Code:
POWE21
Home of the main event!
The Caribe Hilton closed for almost two years after the hurricane and had just reopened before the pandemic. It has been an iconic property in San Juan since 1949 for tourists and locals. We're so excited to have both the wedding and the welcome party here!
To reserve a room at the Caribe Hilton with a wedding block discounted room rate,
click BOOK A ROOM below, or use this link:
https://book.passkey.com/e/50169132
You can also reserve a room at the discounted room rate by calling:
Hilton toll free number - 1-800-HILTONS
Caribe Hilton reservations - 787-721-0303 x 2156
Please refer to your group code POWE21
Hotel El Convento
100 Calle del Cristo, San Juan, 00901, Puerto Rico
787-723-9020

Legendary and Old San Juan. A favorite, steps away from the ceremony site at the San Juan Cathedral.
AIRBNB and VRBO options
There are many AirBnB and VRBO options in the Condado and Old San Juan area.
Ashford Avenue and streets nearby are good options close to the beach; you'll probably find an apartment in this area. Ocean Park is also close to the beach and may have both apartments and houses as AirBnB options. Isla Verde is @ 15 min away (if no traffic) and has a gorgeous, wide beach. But traffic in the area on a beautiful Saturday beach day could make you miss the wedding.
Feel free to run your findings by us! We have a few phone numbers from friends for direct bookings for apartments and will continue to gather more. We will be happy to share those with you. See below!
https://www.airbnb.com/rooms/16266324?source_impression_id=p3_1565637926_Qor7JFaqOkr8rQmm
http://www.dreamcatcherpr.com/rooms-1
https://www.airbnb.com/rooms/23326272?s=67&shared_item_type=1&virality_entry_point=1&sharer_id=46457139
https://www.airbnb.com/rooms/31351886?s=67&shared_item_type=1&virality_entry_point=1&sharer_id=46457139
https://www.airbnb.com/rooms/28861977?s=67&shared_item_type=1&virality_entry_point=1&sharer_id=46457139
https://www.airbnb.com/rooms/31113942?s=67&shared_item_type=1&virality_entry_point=1&sharer_id=46457139
https://www.airbnb.com/rooms/23245171?s=67&shared_item_type=1&virality_entry_point=1&sharer_id=46457139
Things to Do
El Viejo San Juan
The historic district of the capital city of San Juan. A National Historic Landmark District listed on the National Register of Historic Places and a UNESCO World Heritage Site!
Spend an afternoon wandering the cobblestone streets and visit the many museums, art galleries, shops, and local restaurants and bars.
Castillo San Felipe del Morro San Juan
501 Calle Norzagaray, San Juan, 00901, Puerto Rico

Famous fort from when Puerto Rico was first settled. Tour the fort and the surrounding area!
Playa El Escambrón
Puerta de Tierra, San Juan, 00901, Puerto Rico

Home to La Ocho surf spot!
Playita del Condado
Playita del Condado, San Juan, 00907, Puerto Rico

Small beach with swim area overlooking El Boqueron bay and the Caribe Hilton!
Laguna del Condado
Laguna del Condado, San Juan, 00910, Puerto Rico

Take a kayak or standup paddleboard tour from la laguna all the way to El Morro!
Playa Último Trolley (Playa Ocean Park)
Calle General Patton, San Juan, 00911, Puerto Rico

Swim, soak up the sun, play some beach volleyball, or sign up for a kitesurfing lesson. If you're lucky you might see Dr. Olmedo zooming by while windsurfing!
Playa Piñones - La Pocita - Chatarra
PR-187, Carolina, Loíza 00983, Puerto Rico

Great escape from the city. Beautiful beach with relaxing swim area, epic surf spot, and plenty of kioskos with great food to eat!
El Yunque National Forest
Puerto Rico

The only tropical rainforest in the national forest system of the USDA! Beautiful hiking trails that lead to scenic views, spectacular flora and fauna, waterfalls, and more!
La Placita de Santurce
179 Calle dos Hermanos, San Juan, 00907, Puerto Rico

Former town square that is now filled to the brims with bars, restaurants, live music, and more!
Royal Isabela Golf Course
396 Ave Noel Estrada, Isabela, PR 00662
(787) 609-5888

Slicing into the Atlantic Ocean has never felt better! Come for the golf and stay for dinner and drinks with a view over the course AND the ocean!
Toro Verde Adventure Park
PR-155, Orocovis, 00720, Puerto Rico

Zip down The Monster and The Beast!
Playa de Luquillo
Playa De Luquillo, 00773, Puerto Rico

Worth the drive to check out Rosa Olmedo's childhood beach of choice!
Playa Escondida
Fajardo, 00738, Puerto Rico

A short hike through the mangroves gets you to a long stretch of gorgeous, uncrowded beach.
Vieques, Puerto Rico
Travel by small plane or ferry, Vieques is home to oustanding white sand beaches, serenity, and the Bahía Bioluminiscente!
There are five bioluminescent bays in the world: Luminous Lagoon in Jamaica, Halong Bay in Vietnam, and Puerto Rico's Laguna Grande, La Parguera, and Mosquito Bay.

Las Paylas
PR-983, Luquillo, 00773, Puerto Rico

Water has carved a natural slide into river rocks at the edge of El Yunque Rainforest! Off the beaten path but well worth the adventure!
Caño Martín Peña Bicycle Tour
Martín Peña Channel, San Juan, Puerto Rico

Learn about urban sustainability and environmental justice through BiciCano's bicycle tour of the Martín Peña community of San Juan
La Fortaleza/Governor's Mansion
May have to book as part of an organized tour...
Food!
RESTAURANTES
If you have a few extra days, bring your appetite! Puerto Rico's Caribbean cuisine is exceptionally delicious!
Marmalade - El Viejo San Juan - Fine Dining
Exceptional spot for romantic dinner. One of Francisco's favorites!
Don Ruiz - El Viejo San Juan - Breakfast
Delicious coffee and outdoor seating
La Taberna Lúpulo - El Viejo San Juan - Bar
Bar specializing in craft beers and snacks. Great late night spot!
La Factoriía - El Viejo San Juan - Bar & Dining
Michelle Marie's favorite bar in EVSJ. Live music (salsa!), delicious cocktails, dining options, and multiple rooms all within one space.
Al Fresco Rooftop Wine Bar - El Viejo San Juan - Bar & Dining
Grab drinks and dinner on the roof!
Punto de Vista - El Viejo San Juan - Bar & Dining
Another great rooftop option. Located on top floor of Hotel Milano. Spectacular views!
La Bombonera - El Viejo San Juan - Breakfast
Since 1902. Try a mallorca with café con leche o chocolate
ChocoBar Cortés - El Viejo San Juan - Chocolate
4th generation chocolate makers, new generation chocolate space
La Vergüenza - El Viejo San Juan - Bar
3 floors of music, drinks, bar food, and a rooftop bar overlooking La Perla and the ocean!
Verde Mesa - El Viejo San Juan - Pescatarian/Vegetarian
Just down the block from where the engagement took place! Delicious seafood and vegetarian options.
El Hamburger - San Juan - Hole in the Wall
Cheap eats that hit the spot after surfing La Ocho
Ceviche House - Isla Verde - Hole in the Wall
Francisco's favorite stop for...ceviche! Fresh ceviche and delicious tostones!
Jose Enrique Puerto Rican Restaurant - Condado - Local Flavors
Spectacular Puerto Rican cuisine, reservations required!
1919 Restaurant at Condado Vanderbilt - Condado
Fine dining & extensive wine list with ocean views!
https://www.condadovanderbilt.com/condado-1919-restaurant
Tresbé - Ocean Park - Casual Lunch
Inexpensive sandwiches, coffee, and smoothies in a casual atmosphere
Pinky's - Ocean Park - Breakfast/Smoothies
Inexpensive breakfast outpost specializing in breakfast sandwiches and smoothies!
Kasalta Bakery - Ocean Park - Breakfast/Lunch/Repostería
Where Obama had a Medianoche sandwich (Think Cuban sandwich but with sweeter tasting bread). Try the quesitos, Dr. Olmedo's favorite treat!
Hacienda San Pedro - Ocean Park - Coffee Shop
Coffee shop specializing in local roasts
La Penultima - Santurce - Bar
Great bar just outside of La Placita de Santurce
CHINCHORROS Y LECHON
Holes in the wall. Chinchorros by the beach have the best seafood fritters, and in the mountains, the best roasted pig aka Lechón.
Piñones Kiosks - By the beach in the Piñones beach area.
Luquillo Kiosks - At the foothills of El Yunque rainforest, next to stunning Luquillo Beach.
Guavate - This is the area you'd go to eat the best lechón.
What to Wear
WEDDING RECEPTION
Although we're in the tropics, weddings in Puerto Rico tend to be very formal. Most guests wear tuxedos and long dresses.
BEACH WELCOME PARTY
Cocktails by the beach in shades of white! Think linen shirts or guayaberas for the guys, dressy casual outfits for the ladies.
GENERAL EVENING ATTIRE
Evenings out tend to be dressy. Take a shawl or light sweater to a restaurant - air conditioning is often on full blast!
SIGHTSEEING
Be cool and comfortable during the day for sightseeing or the beach. Take a hat, sunscreen. and plenty of water.
(WEATHER)
Temperatures in November range from 75 to 82 degrees and humid. Thankfully there's usually a cool breeze, and most indoor places have A/C.